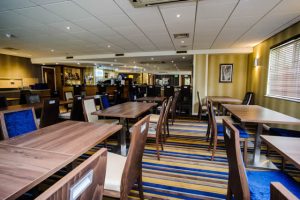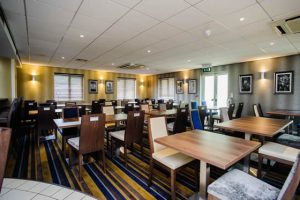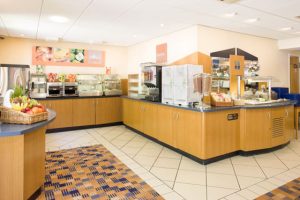 At the Holiday Inn Express Canterbury, the room rate includes breakfast for guests from 6.30am – 9.30am daily.
In the evening, guests of our Kent hotel can enjoy evening meals at affordable prices from 6pm to 9.30pm.
We are proud to announce that we have the best food hygiene rating of 5 that a restaurant can gain and which can be viewed by clicking here
• Download our Dinner Menu PDF
• Download our Wine List PDF
In addition to this we have an informal lounge & bar area selling Torelli Coffee, alcoholic and non-alcoholic beverages throughout the day.
Customers on our Dinner Bed & Breakfast packages enjoy a 3 course dinner in the evening and a buffet breakfast in the morning. The 3 course dinner menu is our Table d'Hote and one can view this by clicking here
We also have an extensive range of vending machines in-house.
Sunday Roast Lunch
Enjoy a special set Sunday Lunch menu specially prepared by our Head Chef Sunil at Harbledowns. To view the menu click here
Plenty of free car parking.
Just £11.95 per person 2 courses and £14.95 per person 3 courses
Harbledowns Curry Nights – Fridays
Join us for a buffet of Asian curries at just £10.95 per person – don't forget you 'Eat all you can' from the buffet for this price.
Table Bookings: 01227 865000 and Email: reservations@hiexpressctb.co.uk
For help or assistance with your enquiry please call 01227 865000 or email reservations@hiexpressctb.co.uk